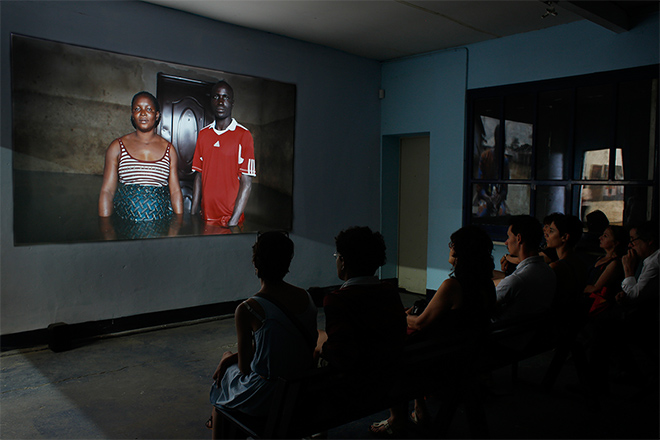 The Water Chapters video installation
Trailer: 2 minutes, 8 seconds
Full version: 39 minutes, 48 seconds
Les Recontres d'Arles
France
July 2017
The Water Chapters
There is nothing new about flooding. The image of the flood is an ancient metaphor, found within the myths and legends of cultures around the world. It can represent an overwhelming, destructive force that renders humanity powerless in its wake and leaves us seeking refuge. As global warming drives an increasing number of extreme flooding events, this message continues to resonate.
The Water Chapters video installation explores individual, family, and community responses to this inundation, each "chapter" dedicated to one country's flood. The nine chapters cover Thailand (2011), Nigeria (2012), German (2013), The Philippines (2013), The UK (2014), India (2014), Brazil (2015), the USA (2015) and France (2016).
The footage shows how in these landscapes life is suddenly turned upside down with the floodwaters revealing much about the societies they impact. The editing formally contributes to the non-documentary style of the videos, focusing on the filmic and photographic qualities of each shot.
A looped, single-channel sequence of these chapters has been part of several exhibitions of Drowning World, providing environmental context, along with sound and movement. .